TOP RATED ON TRIP ADVISOR!!!
VETERAN OWNED & OPERATED
The first & only personal mobility transportation store
in Key West & the Florida Keys
WHERE WE MAKE IT EASIER TO ENJOY PARADISE!!
Key West Mobility Scooter, Power Chair,
& Manual Wheelchair Rentals
5170 US Highway 1, Key West, FL 33040
Scheduled deliveries & pick-ups MON - FRI 8am - 5pm
**Closed Sundays**
305-453-6456
islandcomfortmobility@gmail.com
---
Equipment Models & Rates
STORE HOURS: 8am - 5pm Monday - Saturday / Sunday On Call for Reservations & Scheduled Deliveries.
First Day Rental - $100
Each Additional Day Rental - $75

We offer Drive Ventura Mobility Scooters, Pride Victory 10 Mobility Scooters, and GOGO/Scout Mobility Scooters. Call for availability.

---

First Day Rental - $100
Each Additional Day Rental - $75

We offer the Jet 3 Power Chair. Call for availability.

---

First Day Rental - $50
Each Additional Day Rental - $30

We offer a limited selection of Manual Wheelchairs. Please call for style and availability.
---
OUR PROMISE TO YOU
Clean, dependable quality products. FREE on time delivery & pick-up. Great customer service with a smile.
Here at Island Comfort Mobility we are dedicated to making your vacation easier and more enjoyable! We provide fun mobility scooters, power chairs, bike rentals, & manual wheelchair rentals for your sight seeing enjoyment on this island paradise. All of our equipment models are clearly explained, so you always know what you are getting and exactly what it will cost! NO hidden fees & we don't make you call just to find out the price! Reservations accepted & recommended for large events, festivals & peak season and may be cancelled up to 48 hours prior to your rental date.
FINALLY THE DAYS ARE GONE WHERE YOU CAN ONLY RENT PERSONAL TRANSPORTATION ON THE BUSY STREETS!! NO EXHAUST FUMES, WE ARE COMPLETELY ECO-FRIENDLY!!
We offer up to 24 hour, multi-day & weekly rentals for your convenience. We use only the newest and most innovated Pride brand, ECO-Friendly, top quality, stable four (4) wheel mobility scooters and power chairs. Our units are the most dependable, user friendly and very maneuverable for ease of operation. Baskets are provided on every mobility scooter for you shopping needs.
NEVER TRIED ONE? Come on over and let us show you how much fun these can be! COME CRUISE THE ISLAND IN COMFORT & STYLE. EASY TO OPERATE FOR A FUN ENJOYABLE RIDE!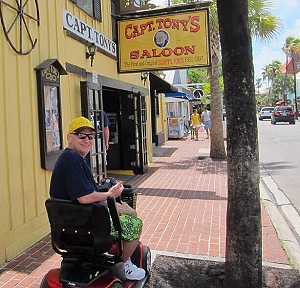 ---
Rentals - Service - Sales
These days life is stressful. We go on vacation to relax, although a lot of us end up pushing to see & enjoy all the sights, shopping & fun we can. Then by the time we get home we are ready for another vacation. No need to cut your time short, opt out of activities all together, or wear yourself out like that any longer. Let one of our mobility scooters do the work for you! We are here to help!
Key West appears to be small, but this beautiful island is a large 4 miles long and 2 miles wide. Walking the island can be quite intimidating & exhausting. With temperatures 80and several months well over 90, it can be brutal especially if you are not used to the tropical temps. There are an incredible amount of sights to see with quite a distance between them. Whether you are young or just young at heart, we are here to make sure you get to enjoy ALL Key West has to offer!
Come see us to get your mobility scooter serviced and running properly as soon as possible. We stock premium power chair & mobility scooter batteries. On sight installation is available for your convenience.
---
About Us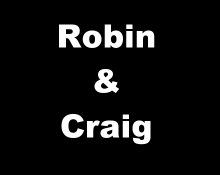 Robin and Craig are owners & operators of the original Island Comfort Mobility. Our family owns & operates Event Scooters traveling the country providing mobility transportation to those in need. We are former west coast natives of Florida & frequently visited this island paradise & fell in love with it. While vacationing here we watched for many years, people of all ages having a hard time getting around. Many not truly enjoying the sights Key West has to offer because of health, convenience or mobility issues. Many times we would have liked to have a mobility scooter or bike after walking all day to see the sights. Our feet were killing us! Other transportation is offered around the island, but many visitors dont want to balance a 2 wheeled moped or find a place to park an electric car. We immediately saw a huge need for our services & here we are!
Call, text or email us today. We're always ready to help.
305-453-6456
islandcomfortmobility@gmail.com
---
---